Forklift Techs Compete for Quality Service
Forklift Technicians Compete for Quality Service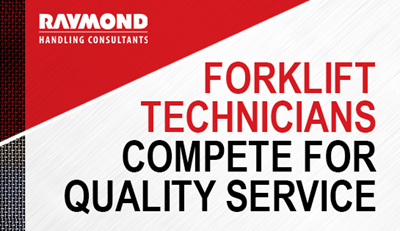 Technology is constantly advancing, even in the world of forklifts and other material handling equipment. Whether it's updated AC drive motors for electric equipment, revamped engine designs, improvements to telematics systems, or changes in customer's applications, forklift technicians face new challenges every day.
To ensure that our technicians provide the high-quality service our customers count on, Southern States Material Handling created the Quality Cup Competition.
What is the Quality Cup Competition?
The Quality Cup Competition is a demonstration of our commitment to excellence. This internal competition for SSMH forklift technicians takes place throughout each year. Forklift technicians from each of the Florida and Georgia dealership locations compete to see who can deliver the highest quality Planned Maintenance service.
What is the Quality Cup Process?
Throughout the year, technicians must qualify to compete as their branch's Quality Champion. Those technicians earn points throughout the year based on maintenance performance, customer satisfaction and retention, and other key performance indicators. The qualified technician with the highest points is that branch's Quality Champion. In order to send their branch Quality Champion for the Quality Cup competition, that branch must also qualify for the Quality Excellence Award.
How is the Quality Cup Scored?
Each branch location selects one Quality Champion based on scores from initial judging by a Toyota and Raymond Certified Trainer to compete for both dealership and company-wide Quality Cup Champion recognition.
Quality Champion Selection
Those locations that qualify for the Quality Excellence Award are able to designate their highest scoring technician as their representative Quality Champion. All certified technicians are eligible to be a branch Quality Champion. Their competition internally is based upon:
Conduct a Standard Quality PM

Customer Interaction

Technician Test

Safety Inspection

ASEC Van Inspection
We take customer reviews seriously, and these results weigh heavily into our internal scoring and review. The Branch Quality Champion who scores the highest points during the Quality Cup is crowned the Quality Cup Champion.
By basing the criteria upon both customer feedback as well as service quality indicators, we make sure our technicians are competing to be the best of the best in providing world-class customer support. The final competition for the Quality Cup is based upon three random quality reviews on a customer's forklift planned maintenance service event, as well as a video review of a standard preventative maintenance completion. In addition to the competitive nature, our Quality Champions become leaders of our internal culture of excellence, helping guide new hires and other fellow associates towards higher performance and quality work.

Benefits for Raymond Handling Consultants Customers
So, what does all this mean for your bottom line? The Quality Cup isn't just for show. This internal competition was designed to deliver specific advantages to our customers, including:
All technicians have additional motivation to take pride in their work and strive for excellence.

High-quality standards are reinforced throughout all of our locations.

The Quality Cup ensures adherence to standards at or above those set by

Toyota Material Handling USA

and

Raymond Corporation

.

Our world-class technicians maintain their commitment to safety and excellence through every step of the maintenance process.
If you need forklift service, see the Raymond Handling Consultants difference firsthand. Contact us online or by phone at (800) 551-9262. Or, if you want to join a forklift technician team committed to excellence, apply to our open positions today.