5 Benefits to Warehouse Automation
Raymond Handling Automation 5 Benefits to Warehouse Automation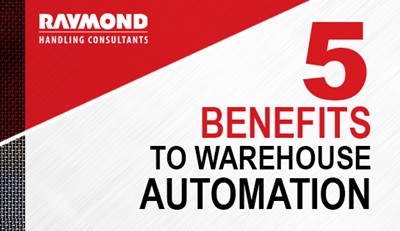 Today's successful warehouse operations are fully automated to save time, improve a company's bottom line, and operate more efficiently. Raymond Handling Consultants offers many of the systems needed to transform your business and keep it in the black.
While no two warehouses are alike, automation can transform your business into a more flexible and customized operation, making inventory management, customer delivery, and order fulfillment easier. It also cuts labor and equipment costs and is more environmentally friendly.
Raymond Handling Consultants offers many of the systems needed to transform your business and keep it in the black, including, but not limited to:
• Conveyor Sorting Systems – Raymond Handling Consultants offers top-quality equipment for systems that can make moving products to various locations in a warehouse much less challenging. Conveyor systems can move single products, sort them or convey entire pallets through the warehouse to the appropriate location.
• Automated Warehouse Picking Technologies – Order fulfillment efficiencies use voice recognition, pick to light and put to light systems, and put walls to increase productivity in inventory management. Warehouse picking automaton increases efficiencies at a time when eCommerce continues to skyrocket. Sorting and packing smaller, more specialized items are easier with order picking technology, available through Raymond Handling Consultants.
• Automated Storage and Retrieval System – Improve material handling efficiency in distribution centers and manufacturing facilities by eliminating unnecessary trips and wasted movement. Raymond Handling and Consultants offers systems that use horizontal and vertical storage carousels to move loads automatically to various locations. In addition, they allow you to monitor and manage inventory with computer-controlled systems.
• Automated Order Fulfillment – Efficiency in picking up an order and preparing it for shipment is crucial in today's business environment. Raymond Handling and Consultants offers goods-to-person order fulfillment systems to improve productivity by reducing the time it takes to travel to a product, pick it up and return it to be packaged. Instead, products are delivered to associates using an automated process. As a result, the order can be picked and prepared for packaging all in one location.
Why Automate Your Warehouse?

There are numerous benefits to automating a warehouse operation, including efficiency, logistics, flexibility, time savings, energy savings, etc. Let's look at five good reasons to automate.
1. Automation means customization: Adding automation to a warehouse operation can transform it to do exactly what you need. Accomplish customization and flexibility with an automated storage and retrieval system that makes inventory management easy.
a. With a hybrid system (AS/AR), some lanes are single deep while others are double or multiple deep to accommodate three to 12 pallets deep in a lane.
b. Higher throughputs can be accomplished with two cranes in the same aisle.
c. Set your business up for success by combining various picking strategies, automated and manual order fulfillment technologies, and warehouse management software.
2. Automation is cost-effective: Automation is a significant investment but can pay off in three to five years, leaving many more years to reap the benefits. Cost savings include reduced labor and equipment costs, smaller land-use requirements, a reduction in waste, lower maintenance costs, and energy costs, especially for frozen and refrigerated warehouse operations.
3. Automation improves productivity: Products are moved and transported correctly with faster, more accurate systems than manual labor can provide. You will get an efficient system with fewer time constraints. These systems can cover vast spaces, both horizontally and vertically.
4. Optimize your space: You may be looking to build a new facility as cost-effectively as possible, or you may want to use as much space in your existing warehouse as possible. Either way, an AS/AR stores 40% more pallets in the same amount of space as a traditional rack warehouse.
5. Enjoy better inventory accuracy: A warehouse execution system (WES) or other software can be integrated with an AS/AR to better control inventory. Less concern about inventory and maximizing space gives distributors and manufacturers more time to focus on critical areas such as fulfilling orders.
In addition to the above-listed automation benefits, such systems are also more environmentally friendly concerning land use, waste production, and energy consumption.
Your company can experience 15% fewer errors in shipping with automation technology. Free up warehouse space and keep products moving.
Automated technology moves products safely and minimizes damage by eliminating the need for workers to move products manually.
By using AS/AR, you bring the product to the worker, decreasing the amount of manual labor involved, such as carrying heavy loads, walking, and lifting. You can also keep workers out of frozen food warehouses, eliminating the need for multiple breaks.
Review your company's needs and the advantages of automation to increase efficiency, safety, time management, and smoother deliveries.
For more information, contact us online, visit one of our 7 locations throughout Central & Northern Florida, or call us at 800-551-9262.